OUR PRODUCTS

 

 

Green Wall Panels

 

 

 

 

 

 

 

 

 

 

 

 

 

 

 

 

 

 

 

 

Looking at bringing some flare to the office, room or business front? The Green Living™ Wall 

panels will do just that. They will leave your customers or guests in awe at the site of plants growing vertically!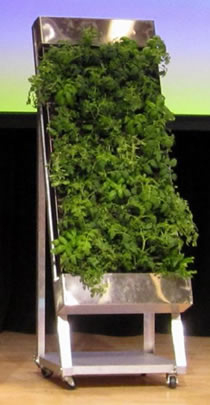 Free Standing and Mobile Units
 
The Green Living™ Wall panels are able to control the flow of water through every cell for even saturation. The patented cell configuration provides superior drainage and free root migration holding the growing media while still allowing for the maximum green surface area. Unlike others our plants do not suffer from root rot and become root bound in a small cell.

Specifications:
Available in standard 1' and 2' increments or custom manufactured as per specification.
Pre-grown and non pre-grown options are available. Perennials, vegetables or herbs
Choose the depth in relation to your plant material. 3", 4" and 6" depths.
Constructed of recycled Aluminum and Stainless Steel
Simple one bracket installation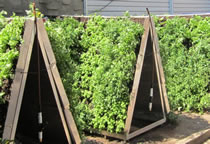 "A" Frame
Urban Agriculture: commercial units have 48 square feet of growing area in a small footprint of only 16 square feet. Smaller mobile units can be used for classroom tools and smaller scale production. Customize is available.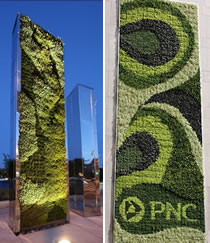 Media Based Green Wall
PNC Bank Pittsburgh Green Wall was completed.  It is the largest media based green wall (or living wall) in North America, measuring 2,380 square feet (10 stories).