OUR PRODUCTS

 

Urban Agriculture

 

People are becoming more aware of the importance of fresh fruits and vegetables grown organically right in their own backyards. Home owners can control what fertilizers and treatments are being used on their crops which gives them the comfort of knowing that what they

are ingesting with their food.

 

The development of new and better green roof and green wall technology allows more families and businesses to participate in the Urban Agriculture movement using the space they have available to them either on their suitable roof space or by using green wall systems to create vertical planters on their balconies or in their back yards.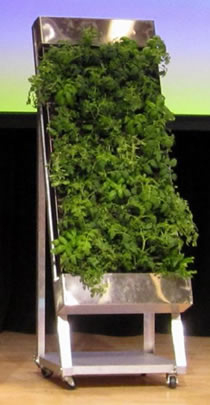 These Planters Stand Vertically!
 
The different depths of panels provide the ability to grow a wide variety of garden fruits and vegetables including tomatoes, eggplants, strawberries and peppers. These mobile planters are a popular option for apartment balconies, parking lots, organic grocery stores, schools, restaurants and anywhere a fixed garden or green wall system would't work very well. We have a stainless steel wall panel available for any food production needs or an aluminum option is available for strictly ornamental installations.

Specifications:
Available in standard 1' and 2' increments. Can be custom manufactured to your specification of the standard sizes won't work for your installation.
Sold as empty panels or can be sold with a number of pre-grown options including various vegetables, herbs or perennials 
Various depths available to support different types of plants including standard depths of 3", 4" and 6".
Stainless Steel or recycled Aluminum construction available
Simple one bracket installation
Channels built into the panels for installation with a drip irrigation system or can be set up with a water reservoir on top and catch basin at the bottom for manual irrigation.